Chicago has been listed again as one of the top cities for bedbugs! So, if you have them, you're not alone.
With the increase in business and recreational travel, both here and abroad — and the added fact that bedbugs have developed a higher resistance to many of the existing pesticides that continue to be used to remove them — bedbugs have been able to propagate and flourish at will. As a result, most pest control companies have seen double-digit growth in the percentage of bedbug issues being identified and treated nationally.
When several pest control companies recently released their rankings of U.S. cities based on the number of bedbug treatments in 2016, Chicago, unfortunately, ranked from number one to number three, depending on whose list you reviewed.
According to a Fox News Health report, here are the top 20 cities with the worst bedbug problems:
1. Baltimore
2. Washington, D.C.
3. Chicago
4. New York
5. Columbus, Ohio
6. Los Angeles
7. Detroit
8. Cincinnati
9. Philadelphia
10. San Francisco-Oakland-San Jose
11. Richmond-Petersburg, Va.
12. Raleigh-Durham, N.C.
13. Cleveland-Akron-Canton, Ohio
14. Indianapolis
15. Dallas-Ft. Worth
16. Atlanta
17. Houston
18. Buffalo, N.Y.
19. Charlotte, N.C.
20. Norfolk-Portsmouth-Newport News, Va.
The map below, provided by Google, tracks daily bedbug incident reports daily to help you better understand the size and scope of the problem in Chicago and its surrounding areas.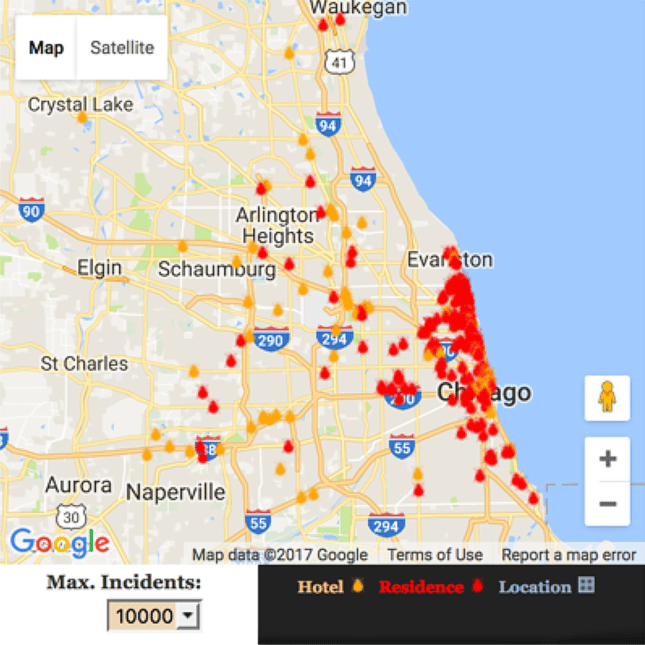 Here are two additional resources that track Chicago's bedbug epidemic:
Remember bedbugs are hitchhikers, about the size and color of an apple seed, and they can be found on mattresses upholstery, suitcases, boxes, shoes, wallpaper and headboards. The size, worth, cleanliness, or location of a home does not and will not protect you from these disgusting little varmints. Only diligence and quick action will prevent an infestation.
What to do if you think you have a bedbug issue: If you think or know you have bedbugs, it is very important that you act swiftly. Bedbugs are extremely difficult to control, especially if they are not caught during the early stages of an infestation. You should contact a bedbug eradication specialist as soon as possible. For more information on bedbugs, check out this helpful article!